This page is here to provide information and ideas relating to every aspect of marijuana.
If you have ideas for this page or information you would like to add please contact us.

---
10 Steps to prevent getting busted cultivating marijuana
---
Here are 10 things you can do to minimize your minimal risk of getting busted:


Don't show anyone.


Don't show anyone.


Dont't show anyone.


DON'T show ANYONE.


DO NOT SHOW OR BRAG ABOUT YOUR GARDEN TO ANYONE!(GrowKind.com excluded of course)


Don't talk on cordless phones about any illegal activities.


Do not open your door for any police or suspicious persons you do not recognize…if they have a warrant they won't knock….pretend you
are not home.(take this one from personal experience, if a cop thinks he smells bud they can sometimes use it to come on in)


Don't be careless in the purchasing, and disposal of, gardening supplies and leaf matter.


Avoid loud parties, music, or fights…a scorned lover can be your worst enemy.


Don't leave bongs, bud or other incriminating items within line of site of windows or doors.


Download a GrowKind.com winamp skin.


Screenshot: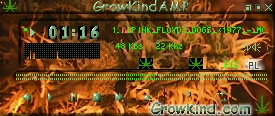 ---