Do Herbal Blends Work?

If you are looking for the same experience you achieve with some illegal substances we'd probably have to say the answer is a simple 'No'. However many of these blends contain substances that have been used throughout time by shamans and others to achieve altered states of consciousness. Some like damiana and salvia divinorum have even been under threat to be made illegal by the government. Many people swear by these herbal blends. If you go into them expecting to get blown out of your mind you will be dissapointed. However if you are just looking for a catalyst you can use to explore your own ability to experience altered states these blends may be the thing you need without being so overwhelming as other mind altering substances can sometimes be.

Herbal Blends also have many uses beyond conscious alteration including relaxation, mild asthma relief, tension and migrane headache relief, appetite stimulation, digestion support, smoking cessation and many many others. Find the blend that is right for you and your needs.
---
Balancing Blues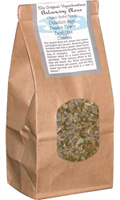 Balancing Blues is a calming herbal blend that has a sweet flavor and a slight tang of eucalyptus that encourages relief from tension and anxiety. It will help restore your mind and body to a state of balance, hence the name 'Balancing Bleus'

Active Ingredients: Damiana (mood enhancing aphrodisiac), Dalmation Sage, Passion Flower, Eucalyptus

Suggested Use: Relax and Revatalize

Read more and Buy Now
---
Feelin' Fine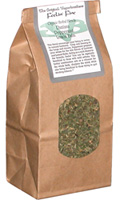 The Peppermint in this blend envigorates your senses opening up the lungs and sinuses preparing them for the Lavender and Lemon Balm. This blend acts as a mild bronchial dilator making it perfect for those with mild asthma. The herbal blends act as a relaxing agent for the body and many have reported to find it useful while trying to quit smoking tobacco.

Active Ingredients: Damiana (mood enhancing aphrodisiac), Peppermint, Lavender, Lemon Herb

Suggested Use: Smoking Cessation, Mild Asthma

Read more and Buy Now
---
Revitalizing Herbal Blend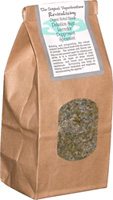 With both peppermint and spearmint this blend really awaken the senses and allow for the Lavender and Dalmation Sage to follow through in calming your nerves and releasing tension.

Active Ingredients: Dalmation Sage, Lavender, Peppermint, Spearmint

Suggested Use: Tension Headaches, Migraines, Appetite Stimulation

Read more and Buy Now
---
Sweetly Calming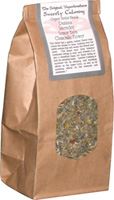 Sweetly calming uses Lemon Balm to prepare your sinuses for the other goodies like Damiana and Lavender and for the final relaxing effect adds Chamomile Flower. It has a relaxing warming effect on the upper torso and soothes the stomach.

Active Ingredients: Damiana, Lemon Balm, Lavender, Chamomile Flower

Suggested Use: Hormonal Swings, Smoking Cessation, Digestional Aid

Read more and Buy Now
[ Marijuana Pictures | Herbal Vaporizer | Glass Pipes ]
None of these statements have been reviewed by the FDA or any medical professional. We do not claim these blends can treat, diagnose or cure any illness, use them at your own risk and after consulting a medical professional. Use all herbal smoke at your own risk we do not endorse ingesting these products without consulting a trained professional. Vapor brothers, vapor doc, and vapir vaporizers are for aromatherapy purposes only. They are not intended for any illegal use or for use with tobacco.

&copy 2008 Last Updated:
Bookmark this Herbal Smoke site!